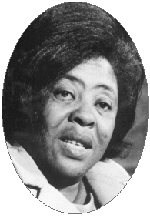 Fannie Lou Hamer (1917-1977)

When Brenda Knight was researching women's history a few years ago, she came across an entry that changed her life. In an encyclopedia of African American women, there was a biography of Fannie Lou Hamer, a woman 40-year-old Knight had never heard of. Hamer's story (along with others) touched Knight so much that she not only wrote a book called Sheroes,but she made it her mission to make Fannie Lou Hamer a household name.
"I was really upset I hadn't heard of her in school," Knight, Director of Sales and Editorial Development at Conari Press, said. "I thought she was cut off from history even though she was very important and made history."
Just who is Fannie Lou Hamer? Odds are you have not heard of her. Before she wrote her book, Knight asked people if they knew who Hamer was, and out of 300 people, maybe four did. "I thought, this woman's contribution is so important," said Knight. "I'm going to make sure that everyone I encounter knows who Fannie Lou Hamer is."
The youngest of 20 children, Hamer was working the fields with her sharecropper parents at the age of six. She only received a sixth grade education. She answered the call for volunteers in 1962, when the Student Nonviolent Coordinating Committee (SNCC) was looking for people to help challenge voter registration procedures that excluded African Americans.
Hamer lost her job and continually risked her life for her activism. She helped organize the Mississippi Freedom Democratic Party to help challenge the white domination of the Democratic Party. In her role of vice-chairperson, Hamer gave a nationally televised address to the Credentials Committee at the 1964 Democratic National Convention. She described acts of violence, including her own experience of a jailhouse beating that left her disabled.
Throughout her life, Hamer was committed to improving life for poor minorities in her state. She worked with the National Council of Negro Women and helped organize food cooperatives and other services. She continued to be politically active, opposing the Vietnam War and helping convene the National Women's Political Caucus in the 1970s. At one of President Lyndon Johnson's speeches, Hamer rushed the stage and said, 'What are you going to say about the fact that most American soldiers are black? What are you going to say about that, Mr. President?'
Hamer is buried in her hometown of Ruleville, Mississippi, where her tombstone reads, "I am sick and tired of being sick and tired."
Knight, however, is sick and tired of Hamer being erased from history. When asked why this occurred, Knight responded, "Because she was black and a woman and perceived as a radical when she was trying to get basic rights. And probably because she was disabled."
During Knight's book tour a year ago, which included national television and radio, Knight had the opportunity to talk with thousands of people about Hamer. Knight estimates she asked about five million people, and out of that group, a mere eight (at most) recognized the name.
Hamer made a sacrifice to help people, Knight believes, and not many people do that. "That takes courage," says Knight. "That's remarkable."
And that, folks, is the definition of a 'shero.' History books take note.
---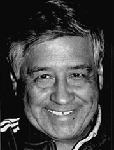 Cesar Chavez (1927-1993) &nbsp(return to top)

Nowhere is Cesar Chavez's legacy more evident than in the foundation which bears its name. The Cesar E. Chavez Foundation's sole staff member, Lori de Leon, has devoted her life to the cause that both Chavez and her mother, Delores Huerta, believed in. The two co-founded the United Farm Workers (UFW), organizing farm workers for the first time.
"The movement grew around me," de Leon, 47, said. "As children, we were the first soldiers, so to speak, of the movement."
Chavez grew up in poverty and experienced racism in school. He dropped out in the eighth grade to be a migrant farm worker to help his family financially. After being in the Navy and getting married, Chavez started his life as an organizer.
When Chavez co-founded the UFW with Huerta, membership was low until the organization convinced grape growers to accept union contracts. Thanks to Chavez' tireless leadership and non-violent tactics (including many fasts), the nation's attention was drawn to farm workers' problems. Chavez believed strongly in the importance and dignity of farm workers, and sought to improve the quality of life for them. During his lifetime, he never earned more than $5,000 a year.
Chavez's widow Helen accepted the Medal of Freedom, America's highest civilian honor, for her husband in 1994. Chavez is still considered a hero for working nonviolently for social change. The late Robert Kennedy called him one of the most heroic figures of our times.
At the time that UFW was formed, the work force was mostly composed of Latinos born in the United States, according to de Leon. "Organizing today is more difficult, as most of the work force is comprised of immigrants that are happy just to be employed," said de Leon. "They are not overly concerned with job security, decent wages and benefits, as anything here is better than where they came from."
Many of the farm workers who have been with UFW from the beginning remain members today. A great number, however, are retiring and reaping the benefits of the Juan de La Cruz Pension Fund, named for a martyred striker. This is the first pension fund for farm workers established by the UFW that now holds more than one hundred million in pension funds for its members.
The mission of the Cesar E. Chavez Foundation, established after Chavez's death, is to preserve, protect and promote Chavez's legacy for future generations. The multitude of tasks that de Leon does daily is a testament to Chavez's abiding popularity.
De Leon spends a large amount of her time on public relations, working with students of all age levels to provide information on Chavez's life and the history of the UFW. She works with civic groups from all over the country who want to commemorate Chavez's life with memorials, such as street namings, parks and schools. The busiest time of year is March and April, de Leon says. March because of Chavez's birthday and April because it is the month in which he passed away. A lot of celebrations take place during this time, so de Leon helps coordinate the efforts in getting speakers and representatives to these events.
De Leon also works with publishers and filmmakers who want to feature Chavez in their work. License use is granted by way of contracts. Some initial research planning is curre ntly being done on the development of a Cesar Chavez Museum near his grave site. The Foundation is also working with the Smithsonian.
Another project has de Leon excited. "We're working on the development of a memorial meditation garden here at our headquarters where Cesar is buried," de Leon said. "We will begin ground work soon and have a projected completion date of April 23rd, the anniversary of Cesar's death."
---