Dolores Huerta, a co-founder of the United Farm Workers (UFW), is one of the most successful and respected labor movement leaders in the 20th century. She led the famous Delano Grape Strike from 1965 through 1970, which resulted in the first collective bargaining agreements for farm workers in U.S. history.

'Ms.' magazine honored her as one of the women of the year in 1998 praised her energetic and sacrificing activities: "For Huerta, every moment is an organizing opportunity, every person a potential activist, every minute a chance to change the world."

Huerta was born in 1930 in New Mexico and raised in Stockton, California, an agricultural community. After graduation from college, she taught at a grammar school but she left the job because in her words, "I couldn't stand seeing kids come to class hungry and needing shoes. I thought I would I could do more by organizing farm workers than by teaching their hungry children."

In 1955, she started her new life as a civil labor activist. She joined the Stockton chapter of the Community Service Organization (CSO) as a founding member. The CSO fought against segregation and police brutality, led voter registration drives, pushed for improving public services and struggled to enact new legislation.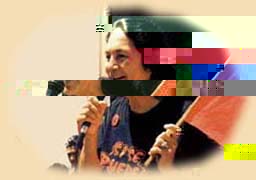 While working for the CSO, she recognized the needs of organizing farm workers and she met Cesar Chavez. I n 1962, the two heroic labor activists formed the National Farm Workers Association (NFWA), the mother of the UFW. At that time, the existing mainstream union leadership dismissed the idea of organizing farm workers that consisted of Filipinos and Latinos. Chavez said to Huerta, "You know, there's never going to be a farm workers' union unless we start it."

Joining up with the Agricultural Workers Organizing Committee (AWOC), the two groups organized the Delano Grape Strike. To boost the strike, they recruited farm workers and their families. By 1965, over 5,000 grape workers walked out of their jobs and the strike spread nation wide to catch the national spotlight. With the victory in Delano, the NFWA and AWOC were merged into the United Farm Workers Organizing Committee (UFWOC).

At last, Huerta negotiated the first UFWOC contract with the Schenley Wine Company in 1966. This was the first time in U.S. history for farm workers to negotiate a collective bargaining agreement with an agricultural corporation. The UFWOC became UFW, AFL-CIO.

For more than thirty years, Huerta and Cesar worked together as a brother and sister to found the Robert F. Kennedy Medical Plan, the Juan De La Cruz Farm Worker Pension fund, the Farm Workers Credit Union, the first medical and pension plan and credit union for farm workers.

During her activities as an advocate for farm worker rights, Huerta has been arrested twenty-two times. In 1988, at her age of 58, she was beaten nearly to death at a San Francisco rally but she sprung up again and sued the city's police department to change its crowd-control procedures during protests.

She is still actively working to protect farm workers' and women's rights. She exerts herself to organize workers in California's strawberry industry and pushes to get women into leadership positions.
Biography
Born on April 10, 1930 in New Mexico
Entered into labor movement by joining the Stockton chapter of the CSO
Founded NFWA with Cesar Chavez in 1962
Led the Delano Grape Strike from 1965 through 1970
Co-chaired California delegation to the Democratic Convention in 1972
Inducted into the National Women's Hall of Fame in 1993