"We, the people. It is very eloquent beginning. But when that document was completed on the 17th of September in 1787, I was not included in that 'We the people.' I felt somehow for many years that George Washington and Alexander Hamilton had just left me out by mistake.
But through the process of the amendment, interpretation and court decision, I have finally been included in 'We the people, My faith in the Constitution is whole, it is complete and total." Barbara Jordan, July 25, 1974.

While Jordan rightly attributes due process and the courts as important mechanisms to extend the American Dream to traditionally underrepresented people, she fails to mention one more important factor: people like herself who were willing to stand up to the system and fight for what they believed in, no matter what the consequences.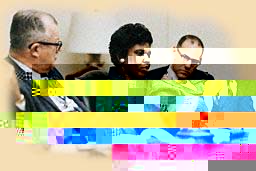 Jordan came from a poor, black Texan family that certainly did not have easy access to the American Dream. But through hard work, perseverance and just plain fighting, she became an icon not only for what America should stand for, but what all dignified human beings should strive for. She fought not only for liberty, justice and equality, but for a higher standard of human existence. For these reasons, she is truly an American hero.
Congresswoman Sheila Jackson-Lee, who now represents the Congressional District that Jordan served, said in the House of Representatives on January 26, 1996 when Jordan passed away, "She was a Renaissance woman, eloquent, fearless, and peerless in her pursuit of justice and equality. She exhorted all of us to strive for excellence, stand fast for justice and fairness, and yield to no one in the matter of defending this Constitution and upholding the most sacred principles of a democratic government."
Barbara Charline Jordan was born on February 21, 1936 in an impoverished part of Houston, Texas. Jordan and her two older sisters were raised by their strict, disciplinarian father who did not allow smoking, drinking or dancing under his watch. As a young woman growing up in the south, she did not question Jim Crowe laws. She said that she would go into a drug store and, "see white kids sitting at the counter having sodas and hamburgers. It never occurred to me that I might want to sit down and eat a hamburger there. That was part of another world."
Jordan attended public schools and finished high school with highest honors then attending Texas Southern University where she majored in government and history. It was in college where she polished her oratory skills as a member of the debate team and also a member of Delta Sigma Theta sorrority. In 1959, she received her law degree from Boston University.
After graduation, she became the first African American woman to serve as an Administrative Assistant on to the County Judge of Harris County. Next, she ran for the Texas Senate and won in 1966, making her the first African American to serve in the Texas Seante since 1883. In 1972, she was elected President Pro Tempore of the Senate, as a Senate tradition, served as Governor for a day-making her the first Black woman governor in the United States.
Jordan's life was filled with "firsts", and her election to the US House of Representative to serve the 18th Congressional District of Texas was no exception. Elected in 1972, she was the first African American to represent Texas in the Congress. During her tenure in the Congress, she was one of the most outspoken voices in favor of impeaching Richard Nixon.
She spoke adamantly in favor of the Constitution, stating, "Today I am an inquisitor. I believe hyperbole would not be fictional and would not overstate the solemness that I feel right now. My faith in the Constitution is whole, it is complete, it is total. I am not going to sit here and be an idle spectator to the diminution, the subversion, the destruction of the Constitution."
Jordan was the keynote speaker at the Democratic National Convention in 1976. After that, Jordan went on to win two more Congressional terms, then retiring from public life in 1979. She became a professor at the University of Texas at Austin. Her commitment to public issues ceased to exist. Even though she had a serious neurological impairment, she continued to remain active in public until her death in 1996. She was the keynote speaker at the Democratic National Convention in 1992, appointed as the Chair to the U.S. Commission on Immigration Reform by President Clinton, and remained active in her church.
Throughout her life, Jordan continued to reach for goals that seemed unattainable. Her kindred spirit, passion and fervor will be forever remembered. She is truly an American Hero.
Biography
Born Barbara Charline Jordan on February 21, 1936 in Houston, Texas
Graduates from Phillis Wheatley High School; wins National United Ushers Association Oratorical Contest in 1952.
Graduates magna cum laude from Texas Southern University in 1956
Graduates from Boston University Law School in 1959
Runs for the Texas House of Representatives; loses election in 1962
Loses second campaign for the Texas legislature in 1964
Elected to the Texas State Senate, becoming the state's first black senator since 1883; gains support of President Lyndon B. Johnson in 1966
Wins second term in Texas senate in 1968
Serves as Texas governor for a day, becoming first black woman to head any American state government; elected to U.S. House of Representatives; assigned to House Judiciary Committee in 1972
Begins to suffer from neurological impairment that will eventually confine her to a wheelchair in 1973
Gains national recognition with televised speech during impeachment hearings on President Richard M. Nixon; elected to second term in Congress in 1974
Delivers keynote speech at Democratic National Convention; wins third congressional term in 1976
Retires from public life; becomes professor at University of Texas-Austin in 1979
Appointed to LBJ Centennial Chair in National Policy at University of Texas-Austin in 1979
Appointed by President Clinton to Chair the U.S. Commission on Immigration Reform in 1993
Receives the Presidential Medal of Freedom in 1994
Dies in Austin Texas on January 17, 1996