Antiwar activist and Vietnam veteran Ron Kovic has turned his personal tragedy into a blessing by helping other people. As a young ma, Kovic thought that fighting a a war was a heroic, glamorous job. The main character in Oliver Stone's film "Born on the Fourth of July,"
Kovic was paralyzed from the waist-down after he was shot in the shoulder. Physically wounded and mentally unstable, Kovic thought he would return home to a hero's welcome. Instead, he was spat on by Americans, and placed in a miserable Veteran's Hospital.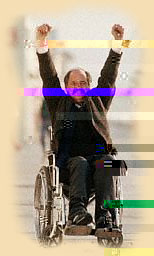 Born on July 4, 1946 in Ladysmith, Wisconsin Kovic's father was a clerk at the local supermarket, and his mother watched the six children. Ron, the eldest child, was not interested in academics, but was an accomplished athlete joining the wrestling and track teams. After high school, he began working at the local grocery store as a clerk just like his father. Fearing that he was doomed to lead the life his father had, he joined marines in 1964. Kovic said in his autobiography, "I wanted to be a hero."
Kovic joined with every intention of being the best marine that he could be, wanting win as many medals as he could. One the most pivotal experiences in Vietnam was when he accidentally shot a 19-year-old corporal who had been running toward him. Ashamed of what he did, he attempted to confess to his superiors, but they would not allow it.
Another awakening moment for him was when they were given orders to kill a village which was thought to be armed. When he and his partner were assigned to take the body count, he was horrified to realize that they had killed women, children and the elderly. The worst part was that no one in the village was armed.
After these experiences, Ron wanted to go home. He began stepping on booby traps so that he might get injured enough to be sent back home. When a trap blew off his heel and then hit shattered his spinal chord, Kovic realized that he would never walk again.
He was awarded a purple heart for attempting to save another soldier and for risking his own life. Despite for awards, Kovic did not feel like a hero. He came home to the horrible conditions in a Veteran's Hospitals in Queens and the Bronx, and to an American public that was angry about the war. Kovic sank into a deep depression.
Kovic went through periods of anger, depression and misery. In 1969, he enrolled at a college in New York. When he broke his leg while exercising, he was placed into yet another horrible hospital. His outrage turned to activism, and he began to become an outspoken critic of war.
He began speaking at high schools and was active in his friend's organization the Vietnam Veterans of America. Kovic regularly attended anti-war rallies, protests and other demonstrations, but his voice was finally heard when he disrupted Nixon's acceptance speech at the Republican National Convention in 1972. He caused such a scene that CBS correspondent Roger Mudd gave him a two minute on-camera interview.
"I'm a Vietnam veteran. I gave America my all, and the leaders of this government threw me and others away to rot in their VA hospitals. What's happening in Vietnam is a crime against humanity÷" he said.
Kovic continued his activism through hunger strikes and protests throughout the war. In 1976, he spoke at the National Democratic Convention. He also published a highly acclaimed book that same year. Kovic has remained politically active throughout the years. He continues to talk to audiences about the dangers of war, and helps other veterans. Although he has had many bouts with depression, writing his book and the movie "Born of the Fourth of July" has helped him heal. Kovic now resides in Redondo Beach, CA where he paints, gardens and playing the piano.
Biography
Born on July 4, 1946 in Ladysmith, Wisconsin
Joined the marines in September of 1964.
Injured in combat, is paralyzed on January 20, 1968.
Protests at Nixon's inauguration in August of 1972.
Published his book in 1976.
Spoke at the Democratic National Convention in July of 1976.
"Born on the Fourth of July" is released in December of 1989.