After being raped at age seven by her mother's boyfriend, young Marguerite Annie Johnson decided that she would never speak again. She remained silent, not speaking to anyone for five years until she found her poetic voice and went on to become one of America's most outspoken creative voices.
Poet, novelist, dancer, novelist and creative genius Maya Angelou gained critical acclaim for her 1969 her autobiography "I Know Why the Caged Bird." Recounting her Arkansas youth, her parents divorce, her move to San Francisco, her years of silence after being raped, and her bouts as a run away, she touched the hearts of many Americans.
Angelou was born in St Louis, Missouri, on April 4, 1928. At age four, she was sent to Stamp, Arkansas to live with her paternal grandmother after her parents divorce. At age seven, she moved to San Francisco, CA to live with her mother. It was there that her mother's boyfriend raped her. Confused, scared and unsure of how to deal with her trauma, young Marguerite remained silent, not opening her mouth for the next five years.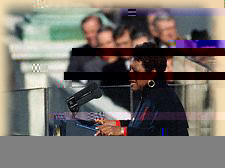 She then returned to Stamps, Arkansas where an adult friend encouraged her to write. Through the guidance of her friend, she finally regained the courage to speak. Then, she moved back to San Francisco where she began taking dance classes and continued to write. Despite her many diversions, she still found a way to knock on trouble's door, and ran away from home at age fifteen. Then, at age sixteen, she became pregnant. In order to look after her child and because she was bored, she dropped out of school and accepted a job as San Francisco's first African American street car conductor.
While she worked as a conductor, she danced with the Alvin Ailey Dance Company and performed in night clubs. In 1954, at age 32, she toured Europe and Africa to perform "Porgy and Bess" for the US State Department. From 1957 to 1961, she was in number of off-Broadway productions.
Angelou later married a South African freedom fighter and moved to Cairo. There, she became the editor of The Arab Observer, the only English news weekly in the Middle East. Later, she taught in Ghana and became feature editor of The African Review.
In 1969, Angelou released her landmark novel, "I Know Why the Caged Bird Sings." Her book has become an American classic, and an inspirational story of her courage and triumph. Maya's career was filled with "firsts" and landmarks-her screenplay "Georgia, Georgia" was no exception as the first produced script by an African American woman in 1972. That same year, she was nominated for a Pulitzer prize in poetry for "Just Give Me a Cool Drink of Water 'fore I Die." She was also nominated for a Tony award for her work in "Look Away" in 1973.
Since then, Angelou has directed, produced, written and acted for television, film and other media. She is also a Reynolds professor of American Studies at Wake Forest University. Another important milestone in Angelou's career came in 1993 when President Clinton asked her to deliver "On the Pulse of the Morning" for the Presidential inauguration. She was the first person to deliver a poem at an inauguration since Robert Frost when John F. Kennedy was elected as President.
Maya Angelou has led an incredibly traumatic yet productive life. Her ability to overcome adversity is inspirational to thousands of Americans. She continues to be a hero, mentor and teacher to Oprah Winfrey and other influential Americans.
Biography
Sent with her brother to live with her paternal grandmother in Stamp, Arkansas after parents separated (date approximate) in 1932
Moved back to her mother's house in San Francisco; raped at age 7 1/2 by one of her mother's boyfriends (date approximate) in 1936
Mute for five years until an older friend back in Arkansas helped her deal with the problem (dates approximate) from 1936-1941
Toured European and African cities in "Porgy and Bess" for US State Department in 1954
Served as Assistant Administrator of School of Music and Drama, University of Ghana; contributed to Ghanian Broadcasting Corporation during this period from 1963-1966
Was feature editor of THE AFRICAN REVIEW from 1964-1966
Wrote the screenplay and songs for the feature film, "Georgia, Georgia"; reputedly the first produced script by an African-American woman in 1972
Received Pulitzer Prize nomination in poetry for "Just Give Me a Cool Drink of Water 'fore I Die" in 1972
Debuted on Broadway in "Look Away", earning a Tony nomination in 1973
Played Nyo Boto on the landmark TV miniseries, "Roots" (ABC) in 1977
Co-wrote teleplay for CBS adaptation of "I Know Why the Caged Bird Sings" in 1979
Appointed to a lifetime posiition as the Reynolds professor of American in 1981
Presented poem "On the Pulse of Morning" at the Presidential inauguration in 1993
Feature directorial debut, "Down in the Delta" in 1998