---
1940-1949
World War and Cold War


---
I ain't gonna work on Maggie's farm no more.
No, I ain't gonna work on Maggie's farm no more.
Well, I wake in the morning,
Fold my hands and pray for rain.
I got a head full of ideas
That are drivin' me insane.
It's a shame the way she makes me scrub the floor.
I ain't gonna work on Maggie's farm no more.

I ain't gonna work for Maggie's brother no more.
No, I ain't gonna work for Maggie's brother no more.
Well, he hands you a nickel,
He hands you a dime,
He asks you with a grin
If you're havin' a good time,
Then he fines you every time you slam the door.
I ain't gonna work for Maggie's brother no more.

I ain't gonna work for Maggie's pa no more.
No, I ain't gonna work for Maggie's pa no more.
Well, he puts his cigar
Out in your face just for kicks.
His bedroom window
It is made out of bricks.
The National Guard stands around his door.
Ah, I ain't gonna work for Maggie's pa no more.

I ain't gonna work for Maggie's ma no more.
No, I ain't gonna work for Maggie's ma no more.
Well, she talks to all the servants
About man and God and law.
Everybody says
She's the brains behind pa.
She's sixty-eight, but she says she's twenty-four.
I ain't gonna work for Maggie's ma no more.

I ain't gonna work on Maggie's farm no more.
No, I ain't gonna work on Maggie's farm no more.
Well, I try my best
To be just like I am,
But everybody wants you
To be just like them.
They sing while you slave and I just get bored.
I ain't gonna work on Maggie's farm no more.


--Bob Dylan

The forties were tremendous times. Americans joined together, not just in war, but in spirit. While World War II was responsible for more than 400,000 deaths, the most destructive war ever was a catalyst for change. From the shock of Pearl Harbor to the finality of the A-bomb, the turmoil reverberated throughout America. Americans went back to work; the Depression was over. As the armed forces drained the men from the labor force, women held the reins thereby widening the horizons for women in the workforce.
Of course, the oldest idea of a hero is the warrior, and in this sense the Forties were the age of heroes. But in wars, heroism itself can be drafted into a government's war machine. Witness the case of Ira Hayes, a reluctant hero, used by the government to sell war bonds. And then there were those who did not fight, but left the world changed for having been there -- many would say, for the better. We'll call them heroes, too.
---
Hero of the day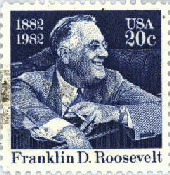 TAKING OFFICE DURING THE WORST TIME OF THE DEPRESSION, Franklin D. Roosevelt brought hope to Americans when >>more
---
---

The Nazis invade Europe...FDR calls the U.S. the "Arsenal of Democracy"...
America First says stay out of war...Japanese planes bomb Pearl Habor...

Japanese-Americans interned...The Battle of Midway...
Japanese withdraw from Solomons...Eisenhower in North Africa...
MacArthur in the Pacific islands...Allies land at Normandy...
Dresden, Hiroshima destroyed...Holocaust revealed...Germany and Japan surrender.. .
Labor unrest in America...the "Iron Curtain" falls across Europe...
The Marshall Plan...Communists in Hollywood?...
The Berlin Airlift...Alger Hiss on trial for espionage...
NATO forms to defend West...Truman to the nation: remain calm.